Skills learned by John Ready's service in the U.S. Navy, left, transfer over to help guide safety in the treatment of cancer patients, while Nicolas Caster uses his healthcare experience to assist the Navy today in its Medical Service Corps.
By Anita Creamer and Gary Zavoral, Vitals contributors
Precision, safety, teamwork. These are skills learned in the battlefield that transfer well into the medical field. And vice versa.
On Veterans Day 2022, the careers and military service of two Northern California healthcare workers detail how their skills and talents can cross over from one field to the other.
John Ready is a radiation oncology safety specialist who learned his craft in the Navy's Nuclear Propulsion Officer program, and Nicholas Caster is an ethics and compliance officer who uses his healthcare experience in the Navy Reserve's Medical Service Corps.
Both men work for Northern California integrated healthcare system Sutter Health, which counts more than 1,000 military veterans and reservists among its 50,000 employees.
Healthcare Experience Aids His Military Service
Well into his career with Sutter Health in Sacramento, Caster joined the U.S. Navy in 2016. He currently serves as a lieutenant with the Navy Reserve Medical Service Corps, specializing in plans, operations and medical intelligence.
In more recent years, Caster says he's most proud of his work during COVID-19 while assigned to NORAD/U.S. Northern Command. His team was responsible for providing command and control for the military's support for civil authorities during the pandemic.
"I wrote directions to say: We need 300 medical personnel sent to a special operation in the Navajo nation or we need medical personnel sent to the Chicago area," Caster says.
He also worked with the U.S. Surgeon General's office preparing briefs and tracking data that made its way all the way to the White House situation room. "It was very, very cool," says Caster.
Of his dual roles in healthcare and the military, Caster confirms that one informs the other.
"When I'm on orders with the Navy, I take valuable lessons on professionalism, protocols, policies and data and analytics, and then apply them to my role as an ethics and compliance officer," he says.
Navy Nuclear Safety to Oncology Radiation Safety 
Ready, on the other hand, served in the military first and took up a career in healthcare after his service.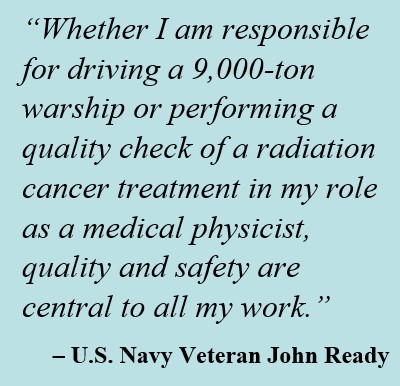 A technical operations manager for radiation oncology and a radiation safety officer with Sutter Medical Foundation, Ready was drawn to serve to the military in the weeks following the attacks of Sept. 11, 2001. Ready enlisted and served in the Navy for five years, leaving as a lieutenant. He recalls what he wrote in his application letter: "I hope to serve now so that my children might not have to."
Ready, with an undergraduate degree in science education, joined the Navy's Nuclear Propulsion Officer program, serving aboard a guided-missile destroyer followed by a tour on an aircraft carrier. During this time, he was able to drive ships, operate nuclear reactors, swim in the middle of the ocean, launch torpedoes and work with "talented people" from all 50 states.
Ready affirms that it was his desire to serve in a role greater than himself that led him to pursue a career at Sutter Health.
"As a Sutter employee, I know my work contributes to the health and well-being of my greater community," he says.
And like healthcare, aviation and nuclear power are commonly cited as high reliability organizations, or HROs, meaning they require high levels of safety, quality and efficiency carried out over extended periods of time. He explains that working on an aircraft carrier, which he describes as a "floating airport on top of two nuclear reactors," requires all of these exceptionally high standards.
"Everything in the Navy centers on high-reliability principles and a culture of safety. That was so ingrained in me that it has become a passion I share in my work at Sutter," says Ready.
Ready adds: "Whether I am responsible for driving a 9,000-ton warship or performing a quality check of a radiation cancer treatment in my role as a medical physicist, quality and safety are central to all my work. I have the Navy to thank for giving me perspective on leadership, responsibility and making decisions that can affect the lives of others."