While the coronavirus has dominated health news for the past two years, there continue to be advances in all areas of medical care. We asked physicians throughout Northern California in many specialties an open-ended question: "What are you anticipating, hoping for, or looking forward to in 2022?"
Some of the specialists are, rightfully so, concentrating on the COVID-19 pandemic, because they are caring for these patients on a daily basis and are anticipating when we can put the pandemic behind us. Others gave us a glimpse of upcoming, positive news concerning cardiac, neurological, cancer, endocrinological and geriatric care. Here is what they said:
Hopeful on the COVID Front
Dr. Gary Green, an infectious disease specialist with Sutter Santa Rosa Hospital and a leading public voice during the pandemic: "In 2022, I am hoping that effective vaccines are distributed worldwide, especially to the developing world, to help the poor and marginalized, and to limit further variant evolution. In the United States, I hope we develop a standard strategic combination of outpatient treatments for COVID-19 with monoclonal antibody and antiviral therapy to significantly improve survival and avoid hospitalization for the medically frail and vulnerable to COVID."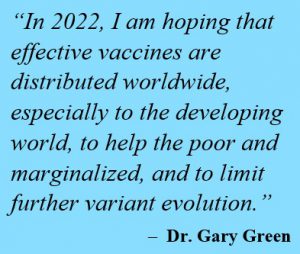 Dr. Yuan-Da Fan, a gynecologist and chair of the Department of Obstetrics and Gynecology at CPMC, has a hope for those he cares for: "To protect yourself, your babies and your family, please get vaccinated. Now only about 33% of pregnant women have been vaccinated."
Dr. Thomas Shaughnessy, a critical care specialist and, as medical director of the Sutter Bay Area electronic ICU, helps to care for COVID patients in 10 Bay Area hospitals: "In terms of ICU care, we are hoping for a de-escalation of COVID-related critical illness. We would like to see improved outcomes with increased mobilization of respiratory failure patients who require mechanical ventilation. We hope to do this through greater coordination of our critical care nursing and physical therapy departments. The visual of getting a patient who is hooked up to a lot of equipment into vertical position is quite dramatic and speaks to the quantum leap forward this initiative (the eICUs that help monitor patients in 20 Sutter hospitals) is intended to provide in the care of our critically ill patients.
"In terms of Tele ICU, we look forward to creating a more robust unified infrastructure between the Valley and Bay Area eICU hubs and broadening our footprint to provide telemedical support to Emergency Department and Medical/Surgical floors as well."
Those Caring for the Young … and the Old
Dr. David Tejeda, a San Francisco pediatrician affiliated with California Pacific Medical Center: "Hoping we can safely provide COVID vaccinations for children under the age of 5 years!"
Dr. Michael Chez, pediatric neurologist and epileptologist with Sutter Medical Foundation: "I am hopeful for new medication choices for children and adults with the severe epilepsy condition called Lennox Gastaut Syndrome. In addition, I am hopeful the medical community will continue to provide innovation and care in order to overcome our current pandemic, and better understand how to manage the short- and long-term effects of COVID." Plus, he adds, he is hopeful that "our society will someday become better at appreciating the providers of health care."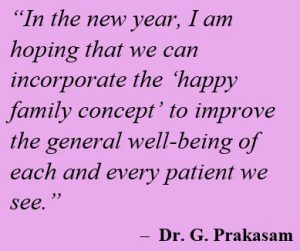 Dr. Gnanagurudasan Prakasam, a pediatric endocrinologist with Sutter Medical Center, Sacramento: "In the new year, I am hoping that we can incorporate the 'happy family concept' to improve the general well-being of each and every patient we see. Our theme should be a focus on prevention of disease and complications as it relates to endocrinology and especially diabetes.
Dr. Wendy Zachary, a geriatrician and medical director of the Hospital Elder Life Program and Acute Care of the Elderly Unit at CPMC: "In 2022, I hope for increased awareness of all that CPMC has to offer our older inpatients: our Hospital Elder Life Program Center of Excellence, Acute Care of the Elderly Unit and Geriatric Certified Emergency Department at the Mission Bernal hospital campus. I hope for increased continued support of these programs so they may continue to provide compassionate, patient-centered care and grow to be able to provide care for all of our older inpatients. I also hope for continued and increased relationships with our community partners in order to ease the burden of transitions of care once patients leave the hospital. And, as always, I hope for MORE GERIATRICIANS!"
Advancing Care for Strokes, Heart and Cancer
Dr. Manoj Mittal, neurocritical care and stroke specialist and director of Stroke and Neurocritical Care at Sutter Medical Center, Sacramento and the Valley Area: "For stroke neurology in 2022, we are looking forward to the following:
"Sutter systemwide implementation of a new thrombolytic agent called intravenous Tenecteplase. It has a major benefit for stroke patients as it can be given as a single intravenous push instead of the previous medication – called tissue plasminogen activator – which required a drip over one hour. This new medication will improve our stroke care across our Northern California footprint by achieving better patient outcomes and reducing the cost of stroke care.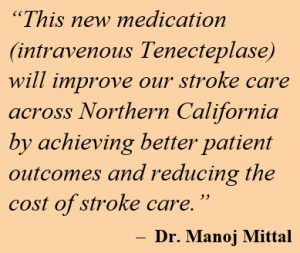 "Sutter-wide implementation of a new stroke transfer policy where emergency room physicians will do clinical evaluation for large-vessel strokes using VAN assessment (Vision, Aphasia, Neglect screening test). Patients who are VAN-positive will benefit from early advance imaging, early notification to transfer center, and early notification to the neurointerventional team. We hope to improve outcomes for these ischemic stroke patients with large-vessel occlusions using this new policy.
"Launch the tele-stroke program throughout the Sutter system in Northern California, which will improve the quality of stroke care across the system. This program will be run by Sutter physicians and will reduce stroke care cost and improve patient outcomes."
Dr. Charles McDonnell, radiologist and cancer diagnostic imaging specialist with Sutter Imaging: Dr. McDonnell, who is an investigator on several clinical trials for cancer medications and treatments, is looking forward to the following advances in diagnosing cancers and other health issues: "Availability of PSMA PET, a huge improvement in staging of prostate cancer. Availability of abbreviated breast MRI, a huge improvement in breast cancer screening for women at average risk with dense breasts. And increased availability of AI (artificial intelligence) in imaging in general, which helps reduce observational errors."
Dr. David Roberts, an interventional cardiologist and the cardiovascular medical director in the Sutter Valley Area: "The cardiovascular service line is excited about several projects coming to fruition in 2022. A new systemwide CV Imaging archival system will greatly enhance patient care and physician workflows. In Sacramento, a new outpatient dual-headed CT begins a process that will help revolutionize CV imaging. This will greatly enhance the care of patients as diverse as those receiving pediatric and adult congenital care, an older patient population receiving high-risk percutaneous valve replacements, and patients being evaluated for coronary disease.
"We are also excited to see new catheterization labs at Memorial Medical Center in Modesto. And, in the north Valley Area, a co-management contract will enhance patient care now for a second year. We anticipate a discussion in 2022 that brings this concept to the south Valley and Modesto."
A Final Thought from a Doc on the Frontline
Dr. Arthur R. Jey, an emergency medicine physician who works in the emergency rooms at Sutter Roseville Medical Center and Sutter Medical Center, Sacramento, and is the director of Residency Development, provided a more universal view of what transpired in 2021 and his positive look forward to 2022: "2021 highlighted our commitment to our community. The sacrifices of the Sutter family has truly inspired me and has not gone unseen. COVID was not the only obstacle over the past year, and time and time again the staff at Sutter pivoted. From Environmental Services, to security, nurses, physician assistants and doctors, they have put the community first and risked their own health for the greater good. I am looking forward to seeing where the continued explosion of kindness is going to take the Sutter family.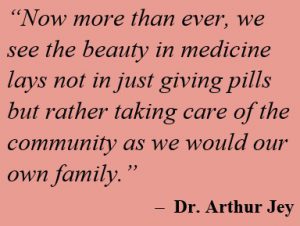 "In Sacramento, we are researching how to keep our local children safe, created a Mentorship Organization to help those that dream of a career in medicine, and wholly adjusted the way we practice medicine to keep our community safe in the face of COVID. At Sutter Roseville, we are actively working to train the next generation of doctors to be as kind as they are clinically excellent. Now more than ever, we see the beauty in medicine lays not in just giving pills but rather taking care of the community as we would our own family. And, in 2022, I am looking forward to spending more time with my family, with my friends and my mentees that inspire me every day."