By Anita Creamer and Gary Zavoral, Vitals contributors
Like many Filipinos, Reggie Escobin discovered that becoming a registered nurse was in her blood.
It is estimated that nearly 20% of registered nurses in California are Filipino and many are on the front lines, working in acute care, on medical/surgical floors and intensive care units.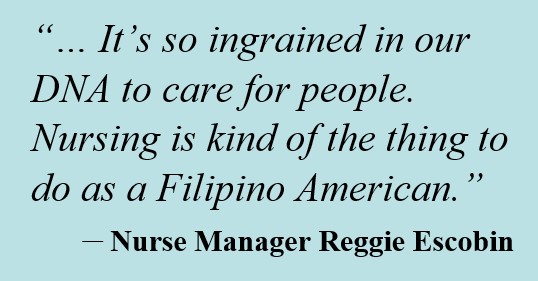 Why are those of Filipino descent drawn to healthcare? It's because they are so caring and treat even their neighbors as family, says Escobin, a nurse manager at Sutter's Alta Bates Summit Medical Center.
"We have a million aunties and uncles, and only about half are blood. Your neighbors are your cousins in the Philippines, but in America, your neighbors are strangers," Escobin says. "Being Filipino means community and caring for people."
Escobin looked into other career possibilities and break that stereotype, "but it's so ingrained in our DNA to care for people. Nursing is kind of the thing to do as a Filipino American."
Escobin, who is on Sutter Health's Diversity & Inclusion Council, immigrated to the United States with her family in 1991. This May, she and her fellow Asian American-Pacific Islanders are celebrating AAPI Heritage Month.
"In the 1950s, '60s and '70s, American hospitals were recruiting Filipinos to come here as nurses, and a wave of immigrants came," she says. "In high school, I didn't have good direction. My mother suggested nursing, and it turned out to be a good fit."
Her entire career has been with Sutter Health, where she climbed the ladder starting as a licensed vocational nurse, then an R.N. and now is in a nursing leadership position. "I'm a lifer," she says.
"For so many Filipinos, healthcare is really a ticket to a better life for our family here and back home," Escobin says. "As much as I want to be part of something new, healthcare has served me well."
However, for her son, she's teaching him to explore other avenues and decide what's the best career for him.
"American culture is more about individuality and finding yourself," she said. "As a child of immigrant parents, it was expected of me to create a more comfortable life for my family, who made a big sacrifice."