Joe Soto, 73, of Sacramento suffered a major stroke, and his family feared the worst. However, just two days later he left the hospital — fully recovered — thanks to the quick action of his grandson and emergency medical teams.
"I called my wife just six hours after I started having a stroke," Soto said, "and she was amazed that I was talking to her so soon."
The neurological "save" is a testament to how far stroke care has come in recent years, how well-prepared many hospitals are to treat stroke patients, and how the acronym detailing the signs to spot a stroke, "BE FAST," really works.
"Joe Soto's story is a real-life example of how quick action when someone is having a stroke can lead to an excellent outcome," said Dr. Manoj Mittal, medical director of stroke and neurocritical care in Sutter Health's Valley Area. "BE FAST can save brain function. And, in Joe's case, it can even lead to getting back to what we call baseline, with no noticeable brain damage."
Soto returned to the hospital, this time on his own accord, at the beginning of Stroke Awareness Month of May to say thanks to the Sacramento Fire Department's EMS crew and the emergency and stroke teams at Sutter Medical Center, Sacramento.
And, for his part, Soto's grandson, 12-year-old Jakub Quinn, was honored with a "Stroke Hero Award" from the Sacramento office of the American Heart Association/American Stroke Association.
"I want to thank my grandson, Jake," Soto said. "He's my hero."
Soto's ordeal occurred as he and Jakub were leaving the boy's Land Park Little League practice on the night of March 14.
While backing his car out, Soto started to "zone out," he says. Jakub immediately reacted, flagging down his coaches. Quickly, 911 was called and Sacramento Fire EMS responded, diagnosed Soto was having a stroke and rushed him to Sutter Medical Center, a nationally recognized Comprehensive Stroke Center.
"It was the quick thinking and amazing savvy of our EMS members on scene who recognized it as a stroke, took the appropriate actions and treatment, and transported the patient to the correct facility," said Sacramento Fire Assistant Chief Eric Saylors, who oversees the fire department's EMS service.
Soto arrived at the hospital less than 30 minutes after suffering symptoms, and it took the Sutter Medical Center emergency department and stroke team just 19 minutes to assess the stroke, perform a CT scan and administer the clot-buster drug tenecteplase, or TNK, a new standard at Sutter hospitals which is much more effective at improving blood flow to the affected part of the brain than the previous treatment.
"The clot buster is doing its magic and is breaking up the clot, but we know we can do better," said Dr. Rajkamal Khangura, medical director of neurointerventional radiology at both Sutter Medical Center and Sutter Roseville Medical Center. "So facilities like ours — Comprehensive Stroke Centers — can remove the clot safely, and with Joe that's what we did."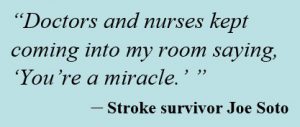 The scan revealed a large vessel occlusion in Soto's brain, and the Sutter neurointerventional radiology team sprang into action, using a microcatheter to remove the clot that was blocking a major artery.
Dr. Khangura said there are a few devices and techniques in a neurointerventional radiologist's toolkit now that are effective in removing clots through catheterization.
"For Joe, we were safely able to remove the clot in one piece," he said. "And what that does is restore blood flow to the area of brain that needs it the most."
Getting back to normal for Soto means continuing to be there for his family and four grandchildren. He even got to witness Jakub hitting an over-the-fence home run.
"Doctors and nurses kept coming into my room saying, 'You're a miracle,' " Soto recalls. "I was at the right time and in the right place for everything to go right."