By Meg Walker, Vitals contributor
Born without a right hand and forearm, Kiren Rizvi Jafry learned to manage her physical disability while growing up, and as a result she was a natural problem solver and conquered many challenges in daily activities.
Recently, her leadership abilities were recognized by the California Association of Healthcare Leaders, which honored her with the American College of Healthcare Executives Early Career Healthcare Executive Regent's Award for her contributions to the advancement of healthcare management excellence.
For the last 4½ years, Rizvi Jafry has been the area operations executive at Sutter Pacific Medical Foundation, and she has been appointed as a service line executive for Sutter Bay Medical Foundation. Both organizations are part of the Sutter Health network.
"I learned to have the humility to ask for help when I need it and to never see a problem as too difficult to solve," said Rizvi Jafry, recalling how she learned early lessons that have helped her in her successful 13-year career at Sutter Health.
Rizvi Jafry has been a major player in Sutter's Bay Area growth, has demonstrated leadership during the COVID-19 pandemic and North Bay fires, and has made her mark as a diversity and inclusion leader, said Bryanna Gallaway, Sutter's systemwide director of patient and family engagement, who  presented the award to Jafry at an annual meeting of the healthcare leadership organization.
"We are grateful to you, Kiren, for all you've done to contribute to Sutter and to be a model of our mission and values as we serve our patients and communities," Gallaway said.
Rizvi Jafry has been an ACHE member since 2009, holding key advisory roles. She has 15 years of experience with progressive leadership growth in multiple areas of integrated health system management, including playing an instrumental role in rebuilding SPMF's clinical footprint in San Francisco and Marin Counties and opening more than 50 departments since 2018. One of her major contributions includes the opening of a 100,000-square-foot, multispecialty medical office building at 1100 Van Ness Ave. in San Francisco.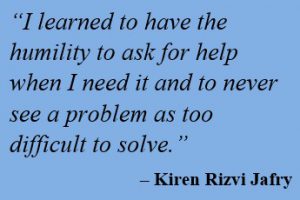 Rizvi Jafry has also served as incident commander, the executive responsible for managing SPMF's response to the COVID-19 pandemic, since early 2020. She also has partnered with the San Francisco Health System Consortium and represented Sutter in mass vaccination rollouts and community outreach programs, helping San Francisco to reach one of the highest vaccination rates in the country.
Finally, Rizvi Jafry has been a vocal advocate of disability awareness, serving as a member of Sutter Health's Ability Inclusive Resource Group as well as co-chair of the Diversity, Equity and Inclusion Council at SPMF.
Outside of Sutter Health, Rizvi Jafry served from 2011 to 2017 as a board president and board member of the River City Food Bank in Sacramento. In that role she worked on joint partnerships with local food banks to offer a space where food banks could operate and build nutrition-based programs serving senior facilities in areas where people have limited access to a variety of healthful foods.