Laser interstitial thermal therapy began as a minimally invasive surgery to help minimize and even stop seizures in both adults and children who suffer from epilepsy. LITT, which is also called laser ablation, now is being used at Sutter Health to help some patients with brain cancer, too.
Brain tumors are some of the most aggressive tumors and the hardest to treat. More than 700,000 Americans are living with a brain tumor and nearly 16,000 will die from their tumor this year, according to the American Brain Tumor Association.
Removing the tumor remains one of the best ways to prevent cancerous growth and spread. But the "trick" for brain surgeons is to precisely see how much tumor has been removed, while preserving healthy brain tissue. That's where novel surgical techniques like LITT and innovative imaging technologies – ways to "map" and visualize the brain – become critical to giving patients new hope for cure.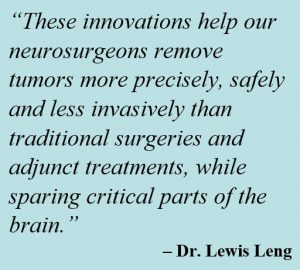 "We're proud that Sutter Health is advancing the latest and most cutting-edge technologies that greatly improve the visibility of brain cancers during surgery and which are helping extend life for our patients," says Dr. Lewis Leng, a neurosurgeon at Sutter's California Pacific Medical Center. "These innovations help our neurosurgeons remove tumors more precisely, safely and less invasively than traditional surgeries and adjunct treatments, while sparing critical parts of the brain."
Here are some of the newer imaging and "neuro-navigation" technologies being used at Sutter Health for brain cancer surgeries:
Fluorescence–guided surgery
Neurosurgeons at CPMC and Palo Alto Medical Foundation are using Gleolan® — the first and only U.S. FDA-approved imaging agent for use during brain cancer surgery.
How it works:  Before surgery, a patient with brain cancer is given a liquid solution with Gleolan®. Then the neurosurgeon views the patient's brain through blue light filters on a surgical microscope. Under this blue light, Gleolan® helps some cancerous brain tumors to "fluoresce" (light up) or glow a red-violet color.
Since non-cancerous brain cells don't glow under the blue light filters, the neurosurgeon can better distinguish the tumor from normal tissue, thus helping guide surgical removal of the cancer.
LITT or laser ablation
LITT is a technique pioneered in the Western United States by Sutter Medical Center, Sacramento in 2011 to treat young epilepsy patients without having to remove the skull in order to reach the area of the brain causing seizures. Neurosurgeons at Sutter Medical Center and CPMC have since used it successfully to treat brain tumors that may be difficult to reach with conventional surgery. Most patients can go home the day after treatment and quickly return to normal activities.
How it works: Surgeons implant a laser-guided catheter into the tumor and heat it to temperatures high enough to kill the cancerous cells but safe enough to protect the surrounding, normal brain tissue. The laser is guided through the catheter with magnetic resonance imaging, allowing neurosurgeons to limit thermal energy delivery to the tumor.
Sutter Medical Center, Sacramento and CPMC are two of only a handful of hospitals in Northern California to offer patients this specialized surgical technique.
"LITT provides patients the benefits of traditional brain surgery with less risk and a shorter recovery time," says Dr. Matthew MacDougall, a neurosurgeon at CPMC. "Because the procedure is minimally invasive, it is especially appropriate for patients who have undergone prior surgery or radiation or who are ineligible for traditional brain surgery."
Virtual MRI
"Neuro-navigation is like a computer GPS system we use in the operating room to pinpoint regions of normal brain tissue as well as potentially cancerous tissue," notes Dr. Leng.
But a patient's brain may shift position and change its shape slightly during surgery, which can "confuse" the GPS.
How it works: To test and help pioneer the new approach, Dr. Leng and his team at CPMC are studying the effectiveness of the Elements Virtual iMRI Cranial® system, made by the company Brainlab, for use with computerized tomography during surgery.
"Virtual MRI is the next step in an exciting evolution of neuro-navigation techniques used during brain surgery, which may be a more precise, safe and cost-effective means than traditional MRI to see how much tumor has been removed and help guide next steps in treatment, even after surgeries for large, highly aggressive tumors," Dr. Leng says.
Do you or a loved one have brain cancer? Find resources offered at Sutter Health.