Not at a mega-center and not reliant on cars, San Francisco's latest COVID-19 vaccine site has an unusual location, at SF Market, the city's wholesale produce market. Located in the city's Bayview neighborhood, experts believe vaccine clinics like these, situated in the hardest-hit neighborhoods, might just be the key to saving the most lives.
In a partnership between the City of San Francisco and Sutter Health, the focus here is on improving access for underserved communities, the same neighborhoods where more people consistently have tested positive for COVID-19 than elsewhere in the city. While still ramping up, the site will eventually be able to vaccinate upwards of 1,000 people per day, as vaccine supply allows.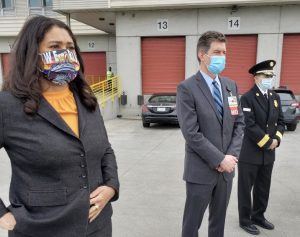 "People in the Bayview-Hunters Point community needed us to be here to meet them where they are," remarked San Francisco Mayor London N. Breed at the launch of the site on Feb, 16.
"We are able to get (this) done because we have healthcare providers, like Sutter, who are not only going to be serving their patients at this site, they're going to be serving Bayview residents." ~ London N. Breed, mayor of San Francisco
"We know that this community has been hard hit by the virus," said Rob Nordgren, M.D., area CEO for Sutter Bay Medical Foundation in the Peninsula and San Francisco regions. "Sutter Health is committed to health equity and ensuring that access to the vaccine is not determined by income, race, ethnicity or where you live. We're ready to do our part in partnership to help end this pandemic and we're proud and humbled to be here and to serve the Bayview-Hunters Point community."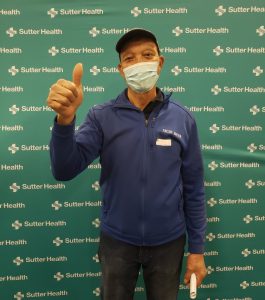 One member of that community is Rong Ze Li, who works at Grub Market in the SF Market where the vaccine clinic is based. For Li, who is 68, getting a vaccine was as easy as walking over during a break from work.
Shamann Walton, president of the San Francisco Board of Supervisors, toured the site and echoed others, saying, "This site is 100% about equity and making sure that the communities that have been most affected by the virus have the same level of access as we do throughout the rest of the city. I want to thank Sutter for prioritizing our community and making sure that we get folks vaccinated so we can beat this virus and get back to a sense of normalcy."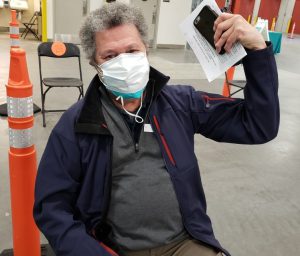 Everett Hewlett got his vaccine at the clinic today and said it meant that he took a big step toward returning to normal.
Grant Colfax, M.D., director of San Francisco Department of Public Health, looks forward to when even more people will get to take that step.
"This site exemplifies our dual goal of providing the vaccine quickly and at scale while also focusing particular efforts on bringing the vaccine to those who may be suffering most from COVID-19 in San Francisco and communities historically underserved by the healthcare system," he said. "I want to thank Sutter Health, without whom this high-volume vaccination site, one of three now open in the city, would not be possible."