Dozens of Sonoma, Calif., residents gathered early — ahead of their scheduled appointments — on the first Saturday in May. These Latino men and women were lined up to receive their second dose of the Moderna COVID-19 vaccine.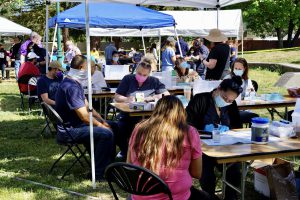 The group targeted for this pop-up clinic was Santa Rosa's 95407 ZIP code, one of the top three ZIP codes in Sonoma County with the highest number of COVID-19 cases among Latinos.
Residents from this community received their first shot of the vaccine at the same picnic area at Santa Rosa's Martin Luther Jr. Park just three weeks prior. The César Chávez Day Health Fair provided a safe and comfortable atmosphere to get vaccinated, as well as take in live music and an art exhibit called "La Vacuna Cura," meaning "the vaccine cures." With a little less fanfare the second time around, the positive energy and relief of receiving one's second dose — offering the most protection against the virus — remained high.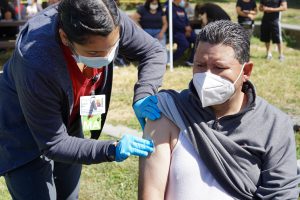 Collaboration key to getting vaccines in arms
Raizes Collective, a local nonprofit helping to address the needs of Santa Rosa's Latino community, did the legwork of getting these individuals beyond any barriers, like vaccine hesitancy, and out for their shot. As for the jabs, Sutter Health stepped in to provide staffing and its vaccine supply.
"In the Latino community, there's a great deal of distrust of government programs and initiatives, stemming from decades of systemic racism and inequality, as well as recent immigration policies that have led to greater deportations," said Isabel Lopez, executive director of Raizes Collective. "Government-sponsored public health messages, statistics and information are simply not getting to many in the Latino community."
Lopez noted that Sonoma County artists are trusted community partners and can create powerful messaging campaigns, like "La Vacuna Cura," that can be much more effective in reaching the Latino population.
"A key piece to the novel Artist Health Equity COVID campaign is to empower artists from vulnerable communities to be key strategizers and content creators to increase the acceptance of the COVID-19 vaccine all while empowering their own community to have autonomy and make informed decisions to receive the vaccine," Lopez said. "We are grateful to the Sutter Health and their team of volunteers who helped make this vaccine clinic possible."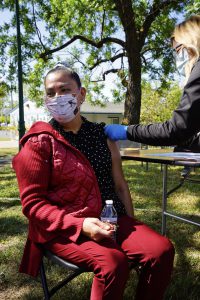 Bilingual volunteers provide needed vaccinations
Sutter, with 15 bilingual volunteers ranging from medical assistants to physicians, provided the inoculations. Their staff also answered the group's vaccination questions, including how to care for yourself or a loved one in the event of side effects, such as a sore arm, mild fever, body aches or a headache.
In total, the first pop-up clinic enabled 206 individuals to get vaccinated; 181 returned for their second dose. As for the 25 who did not return, they received calls and were able to schedule their vaccination at the Luther Burbank Center in Sonoma County, where Sutter Health operates a vaccine clinic.
Sutter Health, as part of its not-for-profit mission, works closely with community partners across its Northern California footprint to bring COVID-19 education and vaccine clinics to minority and vulnerable groups.