Lack of data is still viewed as a barrier to making progress with health equity. COVID-19 has uncovered some stark realities of how the virus has disproportionately impacted communities of color; however, the United States still needs more comprehensive data to make additional headway through the pandemic for those who remain most vulnerable.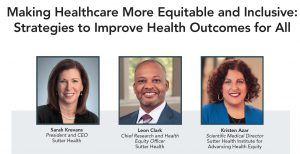 National healthcare leaders are focused more than ever on how data can help provide insight into helping all patients experience similar health outcomes—from COVID and beyond.
Three leaders from Sutter Health, a not-for-profit healthcare network in Northern California, recently spoke with Modern Healthcare to show how data is a major driver in their efforts.