Registered Nurse Carina Klescewski cares for a COVID-19 patient inside the Sutter Roseville Medical Center ICU during the initial surge in December 2020.
Critical-care physicians have learned a lot about how to care for very sick COVID-19 patients in ICUs over the past 18 months, and their efforts have saved countless lives and allowed many patients to recover more quickly.
However, during an interview with two medical directors who oversee an electronic ICU system that helps care for patients in 20 hospitals within Sutter Health's integrated network throughout Northern California, the one thing their accumulated knowledge can't overcome is the virulence of the delta variant and the disproportionate impact on those who are unvaccinated.
While there are more medical resources available, the physicians state there is no magic cure for these patients. But, they emphasize, the difference between the rising hospitalizations seen in 2020 and those of today is the fact that a vaccine is widely available.
Here are excerpts from the interview with the two eICU medical directors: Tom Shaughnessy, M.D., with the Sutter Bay Area eICU in San Francisco, and Vanessa Walker, D.O., of the Sutter Valley Area eICU in Sacramento.
We understand the vast majority of hospitalizations are from unvaccinated patients, but are you seeing more vaccinated patients being hospitalized with COVID?
Dr. Shaughnessy: Yes, but at the time of the previous surges, relatively few individuals were vaccinated. But it is clear: People are less vulnerable to the most severe aspects of this illness if they are vaccinated. The overwhelming share of that patient pool most profoundly affected by COVID are in the smaller, unvaccinated portion of the general population. That cannot be a coincidence.
Dr. Walker: We have seen fewer patients hospitalized who were vaccinated, and in my experience they are hospitalized for other reasons and happen to also be COVID-positive.
How much has been learned in treating this disease, and what has that led to in terms of length-of-stay in the hospital and lives saved?
Dr. Shaughnessy: I think we know more now about how this illness devastates those who become critically ill. It will take a few months to compare last summer's and winter's cases to today's cases, but I suspect there have been better outcomes in terms of mortality. However, long-term physical compromise experienced by patients may be substantial.
Dr. Walker: We continue to learn and adjust daily. More information is being shared across our system to continue to be sure that we are practicing the most up-to-date and evidence-based practices. COVID patients still have longer lengths of stay than other patients, and they still have poor outcomes when they require mechanical ventilation. We are left with the reality that we are supporting their bodies while they heal and that we are just trying to buy them time to do that.
Is the delta variant being treated differently than earlier variants of COVID-19? Does it cause mostly the same symptoms? 
Dr. Shaughnessy: It's more communicable and seems to impact a younger population, who have fewer underlying medical problems. However, this may be the result of vaccination status in the population at large, combined with an overall opening of the economy.
Dr. Walker: I agree with Dr. Shaughnessy. There is no difference in how you treat the delta variant.
It appears that there are more cases but fewer deaths. Is that because patients are younger and healthier, or because of the improved treatment in hospitals?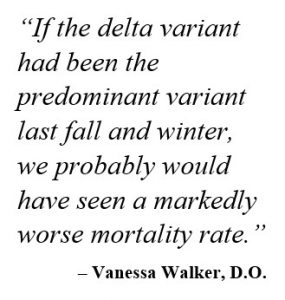 Dr. Shaughnessy: It may be a combination of both. It could also be earlier detection in the disease process, or a higher percentage of afflicted individuals receiving partial benefit from having been vaccinated. Hopefully, as new therapeutics become available to address the disease course in earlier stages, there will be even fewer mortalities and morbidities.
Dr. Walker: I personally think the mortality rate is down because the first waves hit our elderly and sick population hard, and now we have a large percentage of the more vulnerable populations vaccinated. If the delta variant had been the predominant variant last fall and winter, we probably would have seen a markedly worse mortality rate.
What is your main takeaway from this latest surge?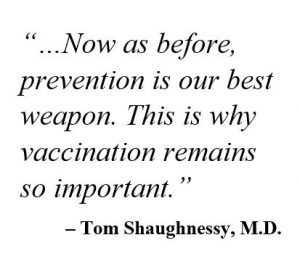 Dr. Shaughnessy: We are not out of the woods, and there are no magic bullets to bring an end to this pandemic. Masking and social distancing still make a difference. Our medical resources are in a better position to care for those afflicted. Better therapies are here, but now as before, prevention is our best weapon. This is why vaccination remains so important.
Dr. Walker: COVID is going to be with us for the foreseeable future. The only way to even try to get a handle on this disease is to vaccinate as many people as we can, and also continue with social distancing and mask wearing. These interventions work, and we all need to work together to save as many lives as we can.
Please don't delay in seeking care. Sutter network hospitals, urgent and walk-in care clinics and medical offices are open and providing high-quality care to patients. Safety precautions at Sutter hospitals and other facilities remain in effect to help protect the health and safety of patients and staff.
Note: This content is not intended to be a substitute for professional medical advice, diagnosis or treatment. Always seek the advice of your physician or other qualified health provider with any questions you may have regarding a medical condition. Never disregard professional medical advice or delay in seeking it because of something you have read on this website.