COVID-19 cases and hospitalization rates continue to decline across California. While the pandemic's effects will be everlasting, this serves as an important moment while the state takes the incremental steps to reopen.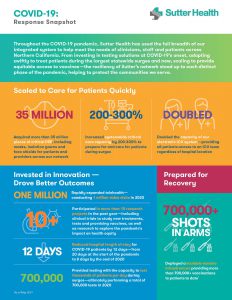 Industries and services across the world gained immeasurable insights during COVID-19–and healthcare is no exception. Integrated systems in particular have shown unique capabilities and resiliencies.
William Isenberg, M.D., PhD, chief quality and safety officer of Sutter Health, describes in a first-person narrative how key learnings and existing infrastructure of his organization benefited patients and communities during an uncertain time.