We've all been there when a medical emergency pops.
Your newborn suddenly spikes a fever… You fall off a ladder and can't put weight on your ankle… Grandma is over for dinner and she suddenly gets short of breath.
Knowing which level of care to seek can be confusing. It's even harder to determine the better treatment option when the illness or injury takes place after hours or on a weekend. And for health issues you've been living with, like a prolonged cold or sinus infection, the pathway for care may be less obvious.
"Symptoms like coughs, colds, sore throats, earaches, rashes, UTIs, abdominal pain, lacerations and concussions seem to trip people up the most," says Carrie Stavropoulos, NP and APC manager for Sutter Walk-In Care and part of the Sutter Bay Medical Foundation.
Recognizing the difference between your doctor's office, a video visit, a walk-in clinic, urgent care or the emergency room can help save time, money and, in some instances, even life.
See below for a helpful guide. 
Your primary care physician's (PCP) office can typically see you for many of the same health issues that go to a walk-in care or urgent care.
"Above all," says Stavropoulos, "you need to go to the emergency room or call 9-1-1 for life-threatening symptoms, such as chest pain and severe abdominal pain. In these instances, every minute counts. Don't delay. Even for non-life-threatening illnesses and injuries, like a persistent cough or a muscle strain that isn't improving after a few days, don't put off coming in for care. We want to see you. We're going to take good care of you."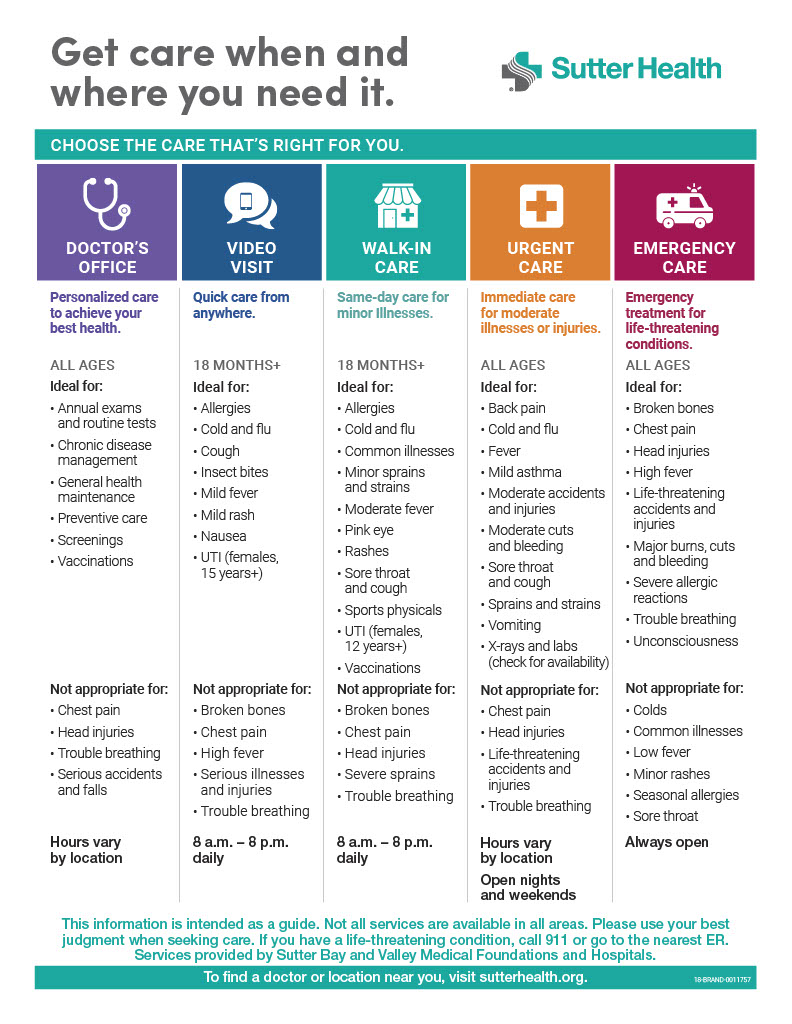 Note: This content is not intended to be a substitute for professional medical advice, diagnosis or treatment. Always seek the advice of your physician or other qualified health provider with any questions you may have regarding a medical condition. Never disregard professional medical advice or delay in seeking it because of something you have read on this website