The first two physicians in the federally-supported Family Medicine Rural Residency Program in Amador County are beginning their two-year residencies this week at the Sutter Family Medicine Continuity Clinic in Jackson, along with rotations at Sutter Amador Hospital.
Dr. Archana Ganta and Dr. Arely Macias are excited to continue their residency tracks in Jackson and help care for families in Amador and beyond. Both are from California and received medical training in the Midwest, and they are very happy to be back in their home state and plan to continue their careers in rural California.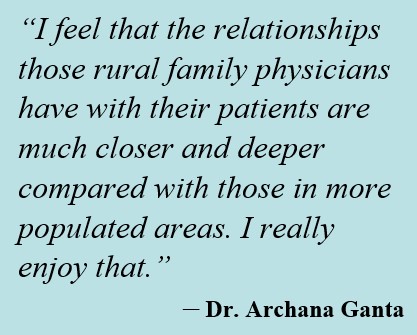 "Being in a more rural community, you are able to see and care for whole generations of families," said Dr. Ganta, who hails from the rural town of Hemet, an hour's drive from Los Angeles. Dr. Ganta knows a little about family medicine physicians in rural areas; her father, Dr. Sanyasi Ganta, is one in Hemet. "I feel that the relationships those rural family physicians have with their patients are much closer and deeper compared with those in more populated areas. I really enjoy that."
Dr. Macias grew up in the Los Angeles area but wants to practice in a rural setting to combine her two "loves." "I'm from the big city, but I've always loved the outdoors," she says. "With rural medicine I'm able to merge the two things I love the most: to practice medicine and to have mountains in my backyard."
In 2019, Sutter Amador Hospital partnered with the Sutter Health Family Medicine Residency Program in Sacramento and received a federal Health Resources Services Administration grant to start the Family Medicine Rural Residency Track in Amador County. The program received accreditation from the Accreditation Council for Graduate Medical Education in 2020. Drs. Ganta and Macias are the first two residents, and next year will be joined by two more. After that, the program will continue to have four resident physicians in Amador County all the time.
Among the goals of the Sutter Health Rural Residency Program are to develop a sustainable, accredited rural training track in Amador County and to ultimately expand the area's rural primary-care workforce. In Amador County, there is a high need for primary-care physicians in the area as the ratio of the population to one PCP is 1,760-to-1; the ratio throughout the state of California is 1,280-to-1, according to the County Health Rankings and Roadmaps website. Sutter has care facilities throughout Northern California, including hospitals and physician clinics in several rural areas.
Both physicians, who were chosen out of dozens of applicants, started their residencies at Sutter Medical Center, Sacramento last year for the first year of their three-year residency programs. The final two years will be in Amador County, with rotations including inpatient and emergency medicine at Sutter Amador Hospital.
Dr. Macias, whose family is originally from Mexico City, speaks fluent Spanish and believes she will be able to relate to that underserved population. In addition, she plans to continue her education after her three-year residency to get a fellowship in obstetrics, another need in rural areas and among the Hispanic communities.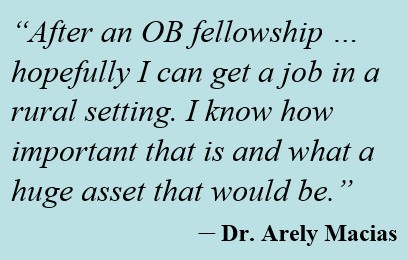 "I'm really interested in OB/GYN, and I had as we had a really great experience at Sutter Medical Center delivering babies" during rotations there, she says. "After an OB fellowship, which is one year after residency, hopefully I can get a job in a rural setting. I know how important that is and what a huge asset that would be in my future, so I really do want to focus on that."
Dr. Ganta has a special interest in addiction care but hasn't decided if she will pursue a fellowship in that. However, she understands that is another need in rural settings and hopes to assist these patients in clinic and in her rotations in the Sutter Amador Hospital Emergency Department.
The director for their two-year residency in Amador County is Dr. Jennifer Shoemaker, a physician with Sutter Jackson Family Medicine who was a medical student in a rural program and completed her three-year residency with the Sutter Family Medicine program in Sacramento.
"As the only residency program in Amador County," she says, "residents will have many opportunities to serve a culturally diverse population who may also face health disparities. We have a dedicated group of Sutter and local community clinicians and organizations lined up to give residents excellent training along with a unique rural perspective on healthcare issues."
Other faculty include Dr. Loni Jay, who also completed her family medicine residency in the Sutter Medical Center, Sacramento program; pediatrician Dr. David Stone; Dr. Michelle Roland, lead physician at the Sutter Jackson Internal Medicine Clinic; Dr. David Beffa, chair of emergency medicine at Sutter Amador Hospital; and longtime area physician and Deputy Public Health Officer Dr. Bob Hartmann.
"Amador County, traditionally, is physician-underserved," Dr. Hartmann says. "So we were looking for the opportunity to introduce more young, energetic physicians into our community and hope that they will like the community and eventually stay here, becoming an integral part of the healthcare system here."
Dr. Dineen Greer is the overall program director for the Family Medicine Residency Program based out of Sutter Medical Center, Sacramento, and she is confident Drs. Ganta and Macias will receive excellent training during their two years in Amador County.
"We have an amazingly enthusiastic group of physicians that work there that just cannot wait to be able to train our residents," Dr. Greer said. "This Rural Residency Track in Jackson will continue to serve families throughout Amador County and beyond, while also helping to relieve the shortage of physicians facing our rural communities in Northern California."
Dr. Greer has been following both resident physicians, and she is impressed with their progress during their first year of residency in Sacramento.
"These two physicians are already providing excellent care to patients and have a desire to continue learning and striving to be the best doctors they can be," she said. "They will be a wonderful benefit to the families in the Gold Country, and they are excited to care for those in the region for the next two years and possibly beyond."
For more on the Sutter Amador Rural Residency Program, go to https://www.suttermd.com/education/residency/family-medicine/amador. For more on Sutter Amador Hospital, visit www.sutterhealth.org.