Drug use has always served as a scintillating storyline. It is a compelling center to some of the past century's arguably best television and cinema.
But the gravity of drug use is a gritty truth that can't be ignored with the hit of a button or the close of a laptop. Drug overdoses—and most notably those from opioids—continue to plague communities across the U.S., including Northern California.
Enter "substance use navigators" into this narrative. They are not the heroes of these stories. Instead, they humbly support those who have been typecast by stigma so patients may get the lasting help they need to work through their addictions.
Substance use navigators, known as SUNs for short, are a relatively new concept in healthcare. The idea is deceptively simple: Many patients with substance use disorders end up in the emergency department with significant health issues. Starting addiction treatment in the hospital and connecting patients to ongoing care helps them in long-term recovery. And substance use navigators can help overcome the stigma around drug use by connecting those dots, guiding patients—and providers—through a new approach that yields results.
"People seeking help with their drug use should be able to turn to their local hospital and expect to be treated like any other patient with a life-threatening illness," said Serena Clayton, program director of CA Bridge.
Last year, the California Department of Health Care Services awarded $100,000 grants to more than 200 hospitals across the state for the Behavioral Health Pilot Project. The project is based on the successful CA Bridge model, which combines medication and counseling for substance use, starting in and stretching beyond the hospital emergency department. The state funds support the salaries and training for substance use navigators and other technical assistance.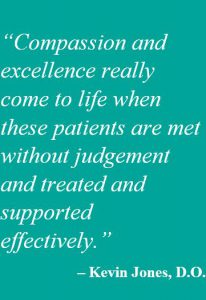 Sutter Health, an integrated, not-for-profit healthcare network based in Northern California, has 20 emergency departments participating in the program—accounting for about 10% of all pilot participants. Data from emergency departments inside Sutter's network reveals a glimpse into how opioid use is impacting communities. From January to May 2021, Sutter providers diagnosed nearly 3,300 individuals with opioid usage.
Kevin Jones, D.O., is the medical director of Sutter Davis Hospital's emergency department in Davis, Calif. He's also the regional director for CA Bridge in the grant implementation process for Sutter's emergency departments using SUNs. He describes SUNs as "rock stars" and says their work represents a culture shift that's as philosophical as it is practical in the treatment of substance use.
"Emergency departments are critical access points for medical intervention, which means we have the opportunity and the challenge of not only treating immediate needs, but of also helping set our patients on the longer-term road to recovery," Dr. Jones said. "Compassion and excellence really come to life when these patients are met without judgement and treated and supported effectively."
Ronn Berrol, M.D., medical director of the emergency department at Sutter's Alta Bates Summit Medical Center in Oakland agreed. "The SUN program recognizes that emergency departments are on the frontlines for identifying and treating patients who have substance use disorders. So by putting resources where they're most needed, the program will allow emergency department staff to continue our primary mission of stabilizing and treating emergent patients, while at the same time enabling us to provide care and resources to patients who have substance use disorders," he said. "As this program matures, I think the benefit of this program to our patients and community will be rewarded many times over."
Taylor Hattersley is a SUN at Sutter Davis Hospital, working alongside Dr. Jones and others. She says she finds herself surprised at how willing people are to open up to her with just a phone call. She suspects it's because it's clear that she simply wants to help.
"I believe it helps to have a SUN set the example of how all patients with substance use problems should be treated," Hattersley said, adding that the bridge to wrap-around care helps patients who may be overwhelmed or simply do not know where to begin their treatment. "Having a substance use disorder is hard enough—at least we can offer support to make it a little less hard."
That support may take many forms. It can include helping patients get started on a medication-assisted treatment in the emergency department. It may also include starting medications for opioid use, such as buprenorphine, which can significantly improve a person's chances of staying in treatment. SUNs may also link patients to a local clinic and assist with setting intake appointments for rehab programs or provide relapse prevention counseling. After patients are discharged, SUNs follow up to check in and see how they are progressing.
Valerie LaBonte is one of those patients who has benefited from the program. The 65-year-old Lake County resident suffered a fall while at work in 2013. After several surgeries and intense physical therapy, she still experienced excruciating pain. LaBonte's doctors eventually prescribed her Oxycodone.
"That's when my opioid adventures began," she said.
By 2019, LaBonte decided she wanted to be weaned off the medication. "I wanted to get off these drugs, but I knew after taking them for six years that I'd need help."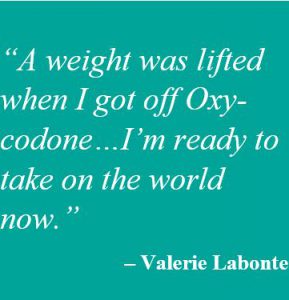 Earlier this year LaBonte met a SUN at Sutter Lakeside Hospital in Lakeport, Calif., who told her about buprenorphine. Through the program's support, she is now more able to focus more on sobriety and the things that bring her joy: cooking, painting and playing with her grandchildren. She also continues to obtain support from SUNs every other week for check-ups.
"I never felt like I was being labeled a drug addict or judged," LaBonte said. "They made me feel very welcomed and showed they were concerned about how I feel and how I'm doing. They understand chronic pain and anxiety and panic attacks which I also suffer from. A weight was lifted when I got off Oxycodone. It's changed my whole way of thinking. I'm ready to take on the world now."
Jodi Nerrel, director of local mental health engagement for Sutter Health's Mental Health and Addiction Care team, is encouraged by the program's success so far—something she had envisioned when she and Dr. Jones advocated for the extension of the state's program beyond its original timeline. She also acknowledges that it will take more time to rewrite this script and overcome the stigma around addiction.
"This is really meaningful work that can inspire real culture change and make a true difference in the lives of patients and families, and their treatment providers. You can't work toward a more favorable outcome than that, which is the best story to tell," she said.