In the photo above, NBC reporter Kate Snow, left, interviewed Dr. Phyllis Napoles and pancreatic cancer survivor Jim Ford, whose cancer was detected by a blood test that Sutter Health helped to study.
By Gary Zavoral and Karin Fleming, Vitals contributors
Jim Ford of Sacramento was asked to be part of a study to help develop a blood test that could detect dozens of cancers, many of which currently don't have a screening test to detect them in the early stages. The test detected a possibility of cancer in the lungs or pancreas, and further tests proved that he had stage 2 pancreatic cancer.
"I thought it was a death sentence," Ford said.
And usually it is. Pancreatic cancer is rarely diagnosed early enough to treat successfully, and many celebrities and famous Americans — including Alex Trebek, Steve Jobs, Aretha Franklin and Patrick Swayze — have died within a year or two of receiving their diagnoses.
However, as surgical oncologist Dr. Phyllis Napoles with Sutter Medical Center, Sacramento says, "It's like Jim hit the lottery." Because the cancer was diagnosed early, Dr. Napoles was able to safely remove Jim's pancreas with its large tumor. After oncology treatments, Ford is in remission and is restored to full health.
Recently, Ford and Dr. Napoles were reunited when NBC News reporter Kate Snow and her crew came to the Sacramento hospital to get Ford's amazing story.
CLICK HERE to watch Ford's story that appeared on "NBC Nightly News."
Now a new clinical trial launched at Sutter Health in the Sacramento and Modesto areas will be researching that same blood test that detected Ford's cancer to evaluate its safety and efficacy.
Recently, Sutter began enrolling eligible patients into a study called PATHFINDER 2. Sponsored by GRAIL LLC, PATHFINDER 2 is assessing the diagnostic capabilities of a multi-cancer early detection blood test called Galleri®. PATHFINDER 2 will evaluate the safety and efficacy of the Galleri® test, as well as patients' adherence to standard-of-care cancer screening tests.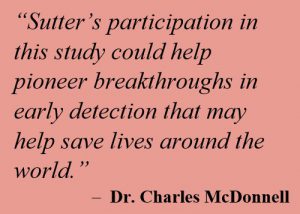 Sutter, currently the only health system in California participating in the multicenter PATHFINDER 2 study, will enroll participants across eight sites in the greater Sacramento region and at Memorial Medical Center in Modesto. Patients who did not participate in the earlier GRAIL studies at Sutter entitled STRIVE or PATHFINDER 1, who haven't been diagnosed with cancer in the last three years and who are 50 years or older, are potentially eligible to enroll in the study and receive the cancer screening with Galleri®.
While blood tests to detect or monitor cancer progression are not new, existing cancer screening tests typically look for a single cancer at a time (e.g., lung cancer). The PATHFINDER 2 study is assessing whether the Galleri® test will help aid early detection for multiple types of cancer with a single blood draw before symptoms present.
The test analyzes participants' blood for a cancer signal, and it is designed to pinpoint where in the body the cancer originates in order to identify the appropriate diagnostic next steps confirming if cancer is indeed present.
"Insights from the PATHFINDER 2 study may improve how we screen for cancers and expand the types of cancer for which we can screen. Sutter's participation in this study could help pioneer breakthroughs in early detection that may help save lives around the world," says Dr. Charles McDonnell, a Sutter radiologist in Sacramento and lead principal investigator for the study at Sutter. "We anticipate this trial may allow us to personalize cancer screening and may eventually enable earlier, safer care for those patients found to have cancer."
During the PATHFINDER 2 study, blood samples will be collected from eligible Sutter patients who consent to participate in the study. Blood samples will be analyzed for small pieces of the tumor's DNA (i.e., its genetic "code"). If a study participant tests positive for a cancer signal, they will be counseled on the results of their blood test and followed during workup to diagnose their cancer. If no cancer signal is detected, the study participant will be counseled to continue their guideline-recommended screening. Study participants will be followed for three years to assess their cancer status and use of routine guideline-recommended cancer screening.
PATHFINDER 2 AT-A-GLANCE:
Study participants will receive a multi-cancer screening test with results returned. Those who test positive for a cancer signal will have their diagnostic testing paid for by GRAIL, LLC. (which may include imaging studies, laboratory tests and/or biopsies). Participants will also receive emails and newsletters from Sutter with information about follow-up appointments and study milestones.
The PATHFINDER 2 study is part of Sutter's coordinated efforts to improve cancer research and treatment outcomes for patients. Sutter also participates in large, phase 1-3 national clinical studies sponsored by the National Cancer Institute and collaborates with pharmaceutical companies on cancer research.
Learn more about PATHFINDER 2 and if you qualify by contacting the study team at pathfinderstudy@sutterhealth.org or call (916) 746-2161.