For National Volunteer Week (April 17-23), Vitals will introduce readers to a few of the thousands of Northern Californians who give their valuable time to help patients, visitors and staff at medical facilities. In this first installment, we meet Don Eberhard, who brings comfort to those at a care center in Mountain View.
Don Eberhard used to play the piano just at home but discovered the joy of playing for larger audiences when visiting his mother-in-law at a nursing home in Capitola, Calif.
"When we visited, my wife did crossword puzzles and I either thought of ways to turbo charge wheelchairs or played piano," Eberhard said. "It was then that I really started to expand my repertoire."
Eberhard began to play in more public venues, branching out to nursing homes, hospitals and even the Atlanta International Airport during a several-hour layover. Now a retired Executive Management Consultant, Eberhard routinely volunteers his piano playing skills at the Palo Alto Medical Foundation care center in Mountain View, one of his favorite places to share his self-taught talent.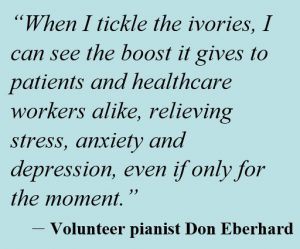 "I have a lot of respect for healthcare workers; it's not an easy profession," says Eberhard. "They dedicate their time to leaving a positive imprint on others."
Quick to acknowledge the strain of the pandemic on medical professionals, Don says that entertaining staff and doctors at the clinic has been especially rewarding for him.
"When I tickle the ivories, I can see the boost it gives to patients and healthcare workers alike, relieving stress, anxiety and depression, even if only for the moment."
Music is also a way to help people feel "Alive Inside" Eberhard says, recommending the documentary film by that name.
Don the Piano Man Didn't Always Like to Play
Don was in grade school when he started piano lessons. Two months in, the instructor told his parents that they were wasting their money, and Don gleefully swapped piano for baseball.
"I was no prodigy," says Eberhard, "and I never practiced."
Fast forward a few years and a twentysomething Don found himself "tinkering" with the pianos scattered around his college campus; there was one near the engineering building where he spent most of his time and another in the girl's dorm where he found it to be strategically located.
Eberhard approached music with the same curiosity that drew him to mechanical and structural engineering (his undergraduate focus) and discipline that saw him turn night school courses from New York University into a Master's Degree in Management, while working a full-time day job. So, it's not surprising that his hands-on mechanical mindset quickly turned "tinkering" into teaching himself not only how to play piano, but how to read sheet music too.
"Piano helped me relax," says Eberhard. It also helped him make friends and feel less isolated when the Long Island, N.Y., native moved to Cupertino, Calif. to start a high-tech management career in 1979.
"I didn't know a soul out here," Eberhard remembers. "I stayed at the Cabana Hyatt Hotel in Los Altos until I could find an apartment and played piano in the grand lobby after work for fun."
It was there that Eberhard met and befriended the talented pianist, composer and Julliard School of Music New York trained Anthony (Tony) Davis who happened to own the Steinway Grand Piano in the hotel restaurant and performed there regularly. They hit it off and Tony often played one of Don's favorites, "Take Five" by Dave Brubeck, a difficult piece of classic jazz.
California agreed with Eberhard, who was then a bachelor and enjoyed exploring the Bay Area and meeting new friends. He made his first big purchase with his new salary: a Baldwin piano that he still has today. For years Eberhard played piano at home, eventually amusing his wife and later the couple's cats. He began playing to larger audiences when he started volunteering.
He Plays Classical Music … Classic Rock, That Is
Eberhard enthuses that volunteering has brought a lot of good into his life: "I've met a broad and diverse group of people that I wouldn't have run into otherwise. When I'm playing, people will walk by and recognize a song and it opens up conversation."
It's no surprise that his music is recognizable, Don only plays popular music (as opposed to classical) and his standards include selections by Billy Joel, Neil Diamond, The Beatles, Bee Gees, John Denver, Bob Dylan, and Carole King to name a few.
"I enjoy arrangements that are structured, have a good beat and touch one's emotions," he says. "Anything with a nice, pleasing melody and is calming or likely to spark a fond memory."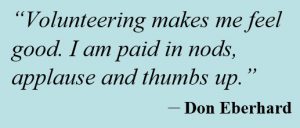 Eberhard calls on others to volunteer too. "Making time to share calming music needs to become more contagious," Eberhard said. "I have yet to witness anyone around the world wearing a mask of any variety over their ears. Music can heal people's spirits, unfiltered."
For all his practicing and playing, Eberhard says he still doesn't know all the chord progressions and admits he's always learning. Perhaps that makes him an even better example to others, proving you don't need to be perfect at something to donate your time, share your talents and pay it forward.
"Volunteering makes me feel good," he says. "I am paid in nods, applause and thumbs up."
How to Volunteer in a Healthcare Setting
As a not-for-profit medical network in Northern California, Sutter Health is appreciative of the many volunteers who give of their time and talents to help deliver its mission to improve the health of everyone. There are many roles volunteers can play in a healthcare setting. To find out how you can volunteer, go to https://www.sutterhealth.org/volunteering.