Meg Walker and Emma Dugas contributed to this story
To say that Rachel Valdez is passionate about healthcare is almost an understatement.
For more than a decade Valdez has worked her way up at the Palo Alto Medical Foundation (PAMF)–from patient service representative to medical assistant. This September, she will take her career one step further when she begins a physician assistant program at Samuel Merritt University, part of the Sutter Health network.
While her professional growth is laudable, Valdez will tell you she's driven by her goal to improve access to healthcare in underserved communities.
"I grew up in Watsonville, Calif., raised by an aunt and uncle when my parents couldn't provide for me and I saw first-hand how someone's socioeconomic status and lifestyle can affect their health and access to healthcare," Valdez said. "I want to help people who are experiencing similar barriers, from financial constraints to scarcity of services, that my family faced."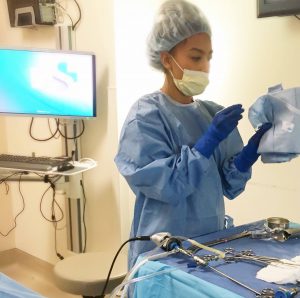 Her childhood may have laid the foundation for her passion, but her achievements are owed in large part to how well Valdez has balanced work, school and family – with support from her employer.
"I am thankful to PAMF and Sutter Health for providing me opportunities to grow," Valdez said. "I've had great managers who understood and were willing to adjust my schedule, to make sure I could keep working and gaining experience on the job."
Keep working she did, while going to school and earning degree after degree. Enrolled at a community college, then a county occupation program, a state university and finally a city college, Valdez has valued the flexibility to work shorter shifts so she could spend some of her day studying.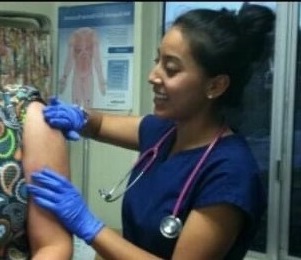 Not one to confine herself to a campus or care center, Valdez has also volunteered her medical skills over the years; serving as a health advocate for patients at a local hospital, screening residents of a homeless shelter for COVID-19, and seeing patients in a rural clinic in Guatemala as part of a medical mission.
"Rachel is a shining example of the future of our healthcare workforce," said Larry deGhetaldi, M.D., president of the Santa Cruz division of PAMF. "From her contributions to our Diversity and Inclusion Council to the public health perspective she brings to her work, she lives our mission to help patients, care for communities, and support our staff to be their best."
Part of that support comes in the form of scholarships toward continuing education, including a 20 percent discount on tuition for existing Sutter staff accepted into a Samuel Merritt University nursing program. Read about two employees who have benefited from this discount.