When it comes to some organ transplants, getting one from someone who's a living person has its benefits. That's why a Northern California transplant center is encouraging residents to register to become an organ donor this National Donate Life Month.
"Living organ donation is the best option for most transplant candidates—and one they may not know exists," says Dr. Steve Katznelson, a nephrologist and director of Sutter's California Pacific Medical Center Kidney Transplant Services in San Francisco.
Living-kidney donation is the most common type of living-donor transplant. Other organs that can be transplanted from a living donor include parts of the liver, lung and pancreas.
Read about CPMC's 10,000th transplant recipient whose life was saved thanks to a partial liver graph.
"A kidney coming from a living donor, as opposed to a deceased donor, has some added benefits," says Dr. Katznelson. He says better long-term function and a decrease in wait time for the recipient are two of the most significant.
Benefits for kidney transplant recipients
There are more than 90,000 Americans on the national kidney transplant waitlist. The average wait is between one and four years, and some people may never get the kidney they need in time.
"The faster a person can find a match, the more likely they'll be able to avoid any further deterioration of their health," Dr. Katznelson says. If the person-in-need is not already on dialysis, he notes that getting a kidney may be help them avoid the treatment altogether. Dialysis, while lifesaving, requires from three to seven days a week and is a less-than-perfect replacement for an actual human kidney.
Additionally, when there is a living-donor match, the donor and recipient can plan the surgery for a time that is mutually convenient. This eliminates the rush and unknowns tied to being on the transplant waitlist. It also helps ensure the recipient is in the best medical condition possible ahead of surgery, explains Dr. Katznelson.
Another benefit includes improved short- and long-term outcomes for the recipient, such as less chance of organ rejection and often a shorter length of stay in the hospital following surgery. What's more, according to the American Transplant Foundation, transplanted organs from living donors often have greater longevity. The average lifespan of a kidney from a living-donor is about 15-20 years versus 8-12 years from a deceased kidney donor.
Benefits for living-kidney donors
The biggest benefit to donors by far is the altruistic component. Giving a kidney to a family member, loved one, friend or colleague – even a total stranger – will help this person continue on with their life. It will also remove them from the transplant waiting list and bump someone else in need closer to the top.
A person who donates a kidney can live a long, healthy and active life for the rest of their life following the transplantation. This is because kidneys come in pairs – each person is born with two kidneys and they are each about the size of a computer mouse. On top of that, should an altruistic donor ever need another kidney of their own, they are immediately placed at the top of the national kidney transplant waitlist.
Read the story of Gil Dong and Peter Yung, who share their transplant journey and why they hope more Asian Americans will consider organ donation.
Conversations with patients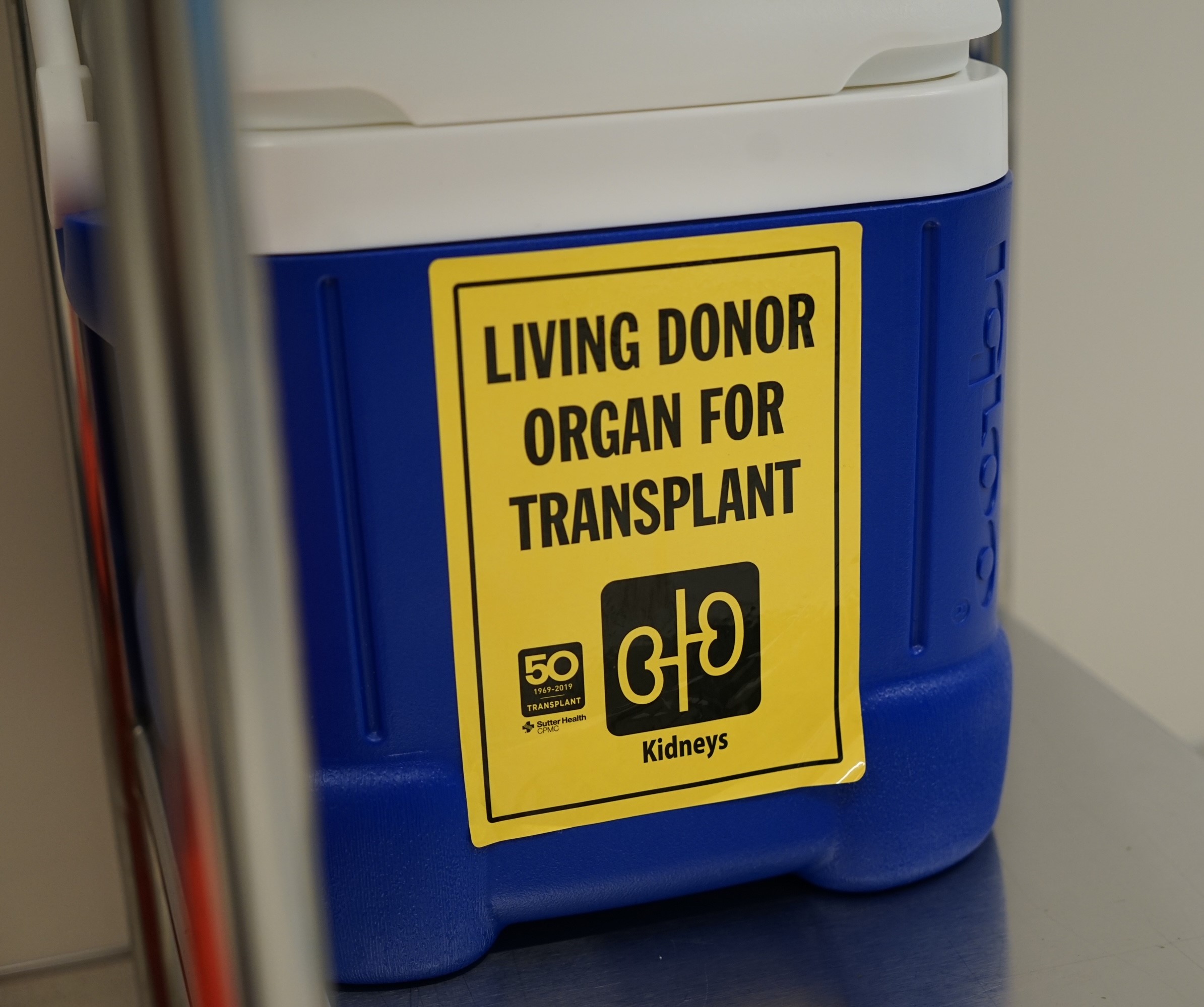 Dr. Katznelson, who has helped oversee CPMC's advanced organ transplant services care for more than  two decades, says more education is needed to increase kidney patients' understanding and awareness of the benefits of a living-donor kidney transplant, including paired kidney donation. He says it's a conversation every CPMC advanced organ therapies care team is now having with patients who need or will eventually need a kidney transplant.
He says the medical center hopes to reach a goal of 30% of all its kidney transplants coming from living-kidney donors by 2023. They are currently averaging about 24%.
UNOS, the United Network for Organ Sharing, suggests the best way to get started if you're interested in becoming a living-kidney donor or in learning more is to contact your nearest transplant center.
National Donate Life Month (#NDLM) is celebrated every April.