Jane Finch*, 87, was hospitalized with a serious bacterial skin infection that caused significant loss of mobility and difficulty walking. Like many seniors, she wanted to return to her San Francisco home, but needed help with that transition.
That's where a partnership between the hospital's Acute Care for Elderly Unit (ACE) and community organization San Francisco Village is helping to improve the lives of older citizens of The City — including Finch's.
Paired with a San Francisco Village volunteer who visits twice a month, Finch has seen firsthand the impact that a better experience of aging can make.
"I am eager to stay active in the aging community and to be able to share my knowledge with others," said Finch, a retired physician. "Facing the challenges of illness last year, I have a deeper understanding of the needs of older adults who lose their mobility and may feel disconnected from their loved ones and community."
San Francisco Village is able to provide this service through a collaboration with Sutter Health's California Pacific Medical Center (CPMC) Mission Bernal Campus hospital, where the ACE Unit is located, and funded by a grant from Sutter's Community Benefit, which provides funding to improve health and well-being in communities throughout Northern California.
Ready to Return to Their Routines
CPMC's collaboration with San Francisco Village was developed upon the opening of its Mission Bernal Campus in 2019 to support connection with the neighboring community. While ACE delivers top-quality health care, plus social support to hospitalized seniors, San Francisco Village helps facilitate independence and community living. The organization provides its roughly 400 members, ages 60 to 103, with support and services ranging from grocery shopping, pet care and music companionship, to car rides for medical appointments or prescription pickups.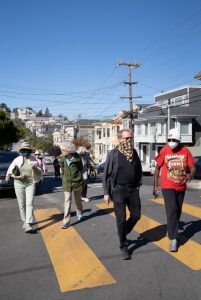 "At San Francisco Village, we believe a better experience of aging is when we can grow with and rely on each other," says Executive Director Kate Hoepke. "When our members unite as peers, we create a purposeful and powerful space for learning, laughter and courage.
To date, 46 percent of patients referred to the program upon discharge from the hospital live in city neighborhoods with the highest diversity of race, ethnicity and language.
Shifting During the Pandemic
According to the San Francisco Human Services Agency, age-related illness or disability, lower income, food insecurity and social isolation may detach older residents from the fabric of community that enhances their potential to age with health and happiness. Unfortunately, COVID-19 has widened that gap, according to the ACE Unit's medical director.
"For city dwellers aiming to enjoy advanced age in good health, the pandemic has made it even harder to foster the community bonds and interpersonal connections that research shows to be even more important as we age," says ACE Medical Director Wendy Zachary, M.D., a hospitalist at CPMC.
Since the COVID-19 pandemic began, San Francisco Village's 200 volunteers – most of them older residents themselves – have pivoted to services that can be provided virtually, or done with additional precautions, to safeguard the health and safety of members.
How the Partnership Works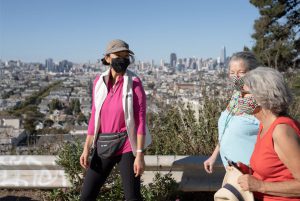 Their formula works like this: In the days before discharge from CPMC's ACE Unit, patients who may benefit from membership in San Francisco Village services are educated on the program's services. A wellness coordinator calls ACE patients in the hospital to enroll them in San Francisco Village and connect them to its services at no cost. These services help patients stay healthy at home, and they are encouraged to continue their membership with San Francisco Village after their recovery.
After less than two years, the collaborative approach to elder care is already having an impact: Length-of-stay and rates of readmission have significantly decreased in CPMC's ACE Unit, and surveys assessing patient experience and satisfaction with San Francisco Village services show an eagerness to continue membership past the 90 days offered through the collaboration with the ACE Unit.
And patients are thankful for the partnership.
"The collaboration between CPMC's ACE Unit and San Francisco Village has provided me a new path forward to live with health and joy while aging," Finch said.
*Jane Finch is an alternative name used in this story as this patient asked to remain anonymous.