In this photo from 1963, Nancy Corrine Holcomb, one of the first graduates of the Mills-Peninsula School of Diagnostic Imaging, is seen receiving her degree. The original photo caption read: "The two-year 'on the job' training course prepares students for state examination. Nancy is now on full time duty at the hospital."
Tuition-Free School Celebrates 60th Anniversary
Diagnostic images are a mainstay in modern medicine. And while X-rays, CT scans and MRIs play a pivotal role in healthcare, so do the people who help take these images: radiologic technologists. These allied health professionals have always been in high demand and are needed now more than ever.
According to the 2023 Staffing Survey by the American Society of Radiologic Technologists, open positions in the field are at the highest level in 20 years, owed to a shortage of qualified radiologic technologists.
Northern California's Sutter Health is working to address this problem by training radiologic technologists to enter the workforce. In fact, Sutter has helped more than 350 radiographers or "rad techs" start their career thanks to education they received through the Sutter Mills-Peninsula Medical Center's School of Diagnostic Imaging. The tuition-free school celebrated its 60th anniversary recently and took stock of what makes the program truly unique.
An Investment in Students
The first step to becoming a radiographer is to earn an associate degree and take perquisites needed to enter a radiography training program. In the training program students then receive additional classroom-based education and conduct clinical rotations. This training step is where the Sutter School of Diagnostic Imaging comes in.
The school's two-year program teaches students anatomy, physiology, math, physics and more while also providing hands-on experience. And this rich, formal education is offered at no-cost to students.
"A program like ours typically costs $40,000 to $60,000 for the classroom-based instruction and clinical supervision," said Cynthia Payne, PhD, program director. "But generous donors, and Sutter Health, together fund our program so we can waive tuition for every student." The school is a hospital-based community benefit program that also receives financial support from the Mills-Peninsula Hospital Foundation.
The Sutter program is also different from a typical community college-based radiologic training program because students are in clinical environments sooner. Students of the Sutter School of Diagnostic Imaging receive 6 weeks of orientation and instruction before they start taking simple x-rays, such as a chest x-ray, under supervision. By comparison, students in community college-based programs can spend a whole year focused on didactic education in a classroom.
Sutter's school includes education in general X-ray, fluoroscopy, and computed tomography (CT) and many of the instructors are themselves working technologists. The hospital-based school is licensed by the Joint Commission on Education of Radiologic Technologists (JRCERT).
Read why one graduate says the program changed two lives: hers and her mom's.
All graduates from Sutter's school are competent in general X-ray, have a venipuncture certificate, and can perform basic CT exams. Upon completion of the requirements for the school and the American Registry of Radiologic Technologists (ARRT), graduates are eligible to take the national board exam with the ARRT. Passing the ARRT exam automatically qualifies graduates for a license from the State of California's Radiological Health Branch. The five-year (2017-2022) ARRT exam pass rate, for graduates of Sutter's School of Diagnostic Imaging, is 86%.
With additional education and training, graduates can seek opportunities in mammography, magnetic resonance imaging (MRI), more advanced CT, and interventional radiology. "We prepare students for entry-level employment, however there are numerous job opportunities and the ladder for advancement is often better than many other allied health professions," says Payne.
An Investment in the Community
Ultrasounds give pregnant women the first grainy glimpse of their developing baby. Mammograms can aid in the early detection of breast cancer. Targeted CT scans can detect lung or colon cancer and an MRI may reveal or rule-out a brain tumor. X-rays can show the extent of countless injuries.
The one commonality to all these different types of medical images is the radiographer who was there when you needed them.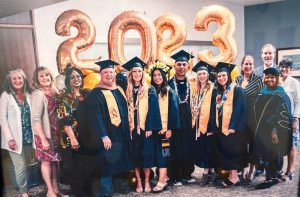 By fostering a pipeline of talent, Sutter's school helps ensure there is a strong, local workforce ready to meet the increasing demand for services. This is especially important as the Baby Boomer generation continues to age and the Bay Area population grows, both of which put pressure on healthcare capacity.
The mission of Sutter's Mills-Peninsula School of Diagnostic Imaging is to provide the community with competent and qualified imaging practitioners who, through an outstanding quality education, will possess high ethical standards and will deliver excellent service and care with compassion and respect.
"We foster critical thinking in our students so they can adapt when new or unexpected circumstances arise," said Payne. "We also teach professionalism so our graduates will listen without judgment when taking a patient history, maintain calm composure on the job even when things get busy and most importantly treat everyone with kindness."
An Investment in Innovation
"The field of diagnostic imaging has undergone a dramatic digital revolution since our school was founded," said Payne. "Our hospital is unique because it stays on the cutting-edge of technology, which benefits both our patients and our students."
At Mills-Peninsula Medical Center state-of-the-art images are available because Sutter has invested in the latest equipment. Donors have also helped make purchases possible, including a $2.6 Million CT scanner that produces clearer images, faster, and with less exposure to radiation compared to older machines.
Read how Sutter Health uses an artificial intelligence system, developed by Ferrum Health, to double check lung cancer scans.
Over the past 60 years the ways that radiographers can help people have grown in scope and complexity. What has remained the same is Sutter's focus on the future; both the future of medical care and the people who provide it.