Hilda Martinez and her special "Angel" will be in the 133rd Rose Parade in Pasadena. "Angel" is the donated kidney that saved Martinez's life.
Martinez will ride on the Donate Life "Courage of Hope" float down iconic Colorado Boulevard on New Year's Day 2022 to raise awareness for organ, eye and tissue donation. The Richmond resident was a kidney transplant recipient and credits her life to the generosity of her organ donor.
To kick off her participation, doctors with Sutter's California Pacific Medical Center and representatives from Donor Network West held a "send-off" for Martinez and her family. It was through CPMC and Donor Network West – an organ procurement and tissue recovery organization (OPO) – that Martinez was able to find a kidney match and undergo her transplant surgery in 2014.
"Thanks to God, the doctors and my donor, I am here today," said Martinez during her remarks at the send-off event.
Members of Martinez's care team were also there to show support, including transplant coordinator Vicki Martin.
"We're proud to be part of Hilda's journey," said Martin, who remembers when Martinez was a patient and anxious about what the future would hold. She encouraged Martinez to have fun at the parade and said she "couldn't wait to see her on the float."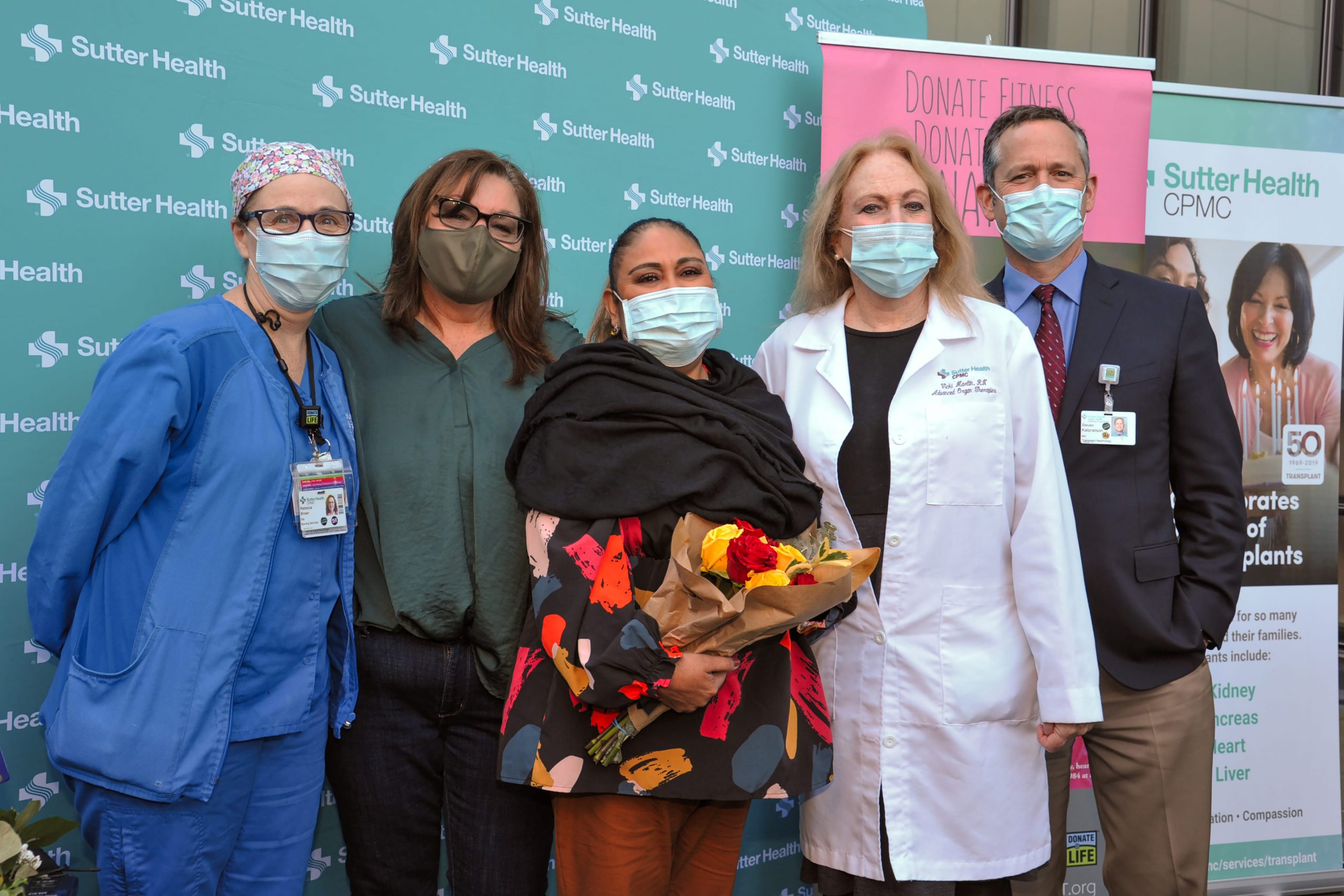 During the event, Dr. Harish Mahanty, a transplant surgeon at CPMC and the hospital's surgical director for kidney transplants, praised Martinez's bravery throughout her transplant journey. He explained that organ donation creates "a ripple effect that has a profound impact on the lives of many." Dr. Mahanty said CPMC is working to increase awareness and education surrounding both deceased and living-kidney donation.
"In terms of living kidney donation," Dr. Mahanty said, "we are striving to improve upon the processes that promote access to both donors and recipients."
Likewise, Dr. Steve Katznelson, a nephrologist and CPMC's medical director of kidney transplants, shared that CPMC's transplant program has offered excellence in transplant medicine for more than 50 years and will very soon look to celebrate its 10,000th transplant. He said Martinez's case shows the power of organ donation to save and change lives, and he thanked Donor Network West for their partnership to help make organ donation procurement possible.
Luis Mayen, VP of strategic partnerships and business development for Donor Network West, shared with attendees that "one donor can save up to eight lives through organ donation and heal another 75 through tissue donation." Mayen also encouraged the community to register as an organ and tissue donor via the group's website.
"Es un milagro," Martinez said, describing her experience as a "miracle" in her native Spanish language. She said she is well aware of the long wait people who need a kidney transplant have to endure. According to the Donor Network West, the average wait time for a deceased kidney is five years. The organization says a person's wait can change a lot depending on their personal situation or the availability of a kidney from a living donor.
As for Martinez, her kidney came from a deceased donor. She nicknamed her kidney "Angel" in honor of her donor.
Martinez said she thinks about her donor every day and thanks her Angel for giving her time to spend with her family.
"Every time I hug my girls, I thank God and my angel Jesus. When my children graduated from high school and college, I thanked God and my angel Jesus. I am here today because a person said yes to donation," said a teary-eyed Martinez.
Martinez dedicates her free time to volunteering with Donor Network West alongside a devoted group of women called Las Amigas. They work to educate their Latino community about the importance of organ and tissue donation in Spanish.