Will there be a cure for cancer in our lifetime? It is hard to say, but it's certainly a moonshot worth taking. For now, the medical community continues to make remarkable progress in the fight against cancer.
"Early diagnosis and new therapies are our most useful tools in beating back the disease," says Dr. Rajesh Behl, an oncologist with Sutter's East Bay Medical Group.
In Northern California, Sutter Health's integrated network – home to 13 cancer centers – approaches cancer care from all sides. Here's a closer look at how Sutter's helping to crack the cancer code:
Leading-edge treatments
Four Sutter hospitals now offer GammaTile® Therapy to treat brain cancer and tumors. Tiny tiles with "radioactive seeds" zap brain tumors and prevent their return. Sutter Medical Center, Sacramento also offers the newest Gamma Knife technology to eradicate brain tumors without surgery. Plus, a nerve sparing technique pioneered by a Sutter-affiliated breast surgeon is helping women retain sensation after mastectomy.
Learn about other areas of innovation in cancer care at Sutter Health.
Clinical trial research
Sutter's participation in the PATHFINDER 2 study – a blood test that may detect dozens of cancers – has already led to the detection and successful treatment of a Sacramento man's pancreatic cancer. He's since made a full recovery. In the Bay Area, Lung-MAP, a landmark study looking at the potential benefits of two trial drugs to treat lung cancer, has proved a game-changer for a Redwood City resident.
Want more information on clinical trials related to cancer? Here is a list of current clinical trials at Sutter Health.
Equitable access to care
Early detection events like this one with Alta Bates Summit Medical Center's Comprehensive Cancer Center and the Native American Health Center helped bring colon cancer education and screening to underserved populations. Also, a mobile mammography van has been hitting the road to bring the latest in 3-D screening technology to underserved and uninsured women in the Bay Area.
Tackling cancer as a team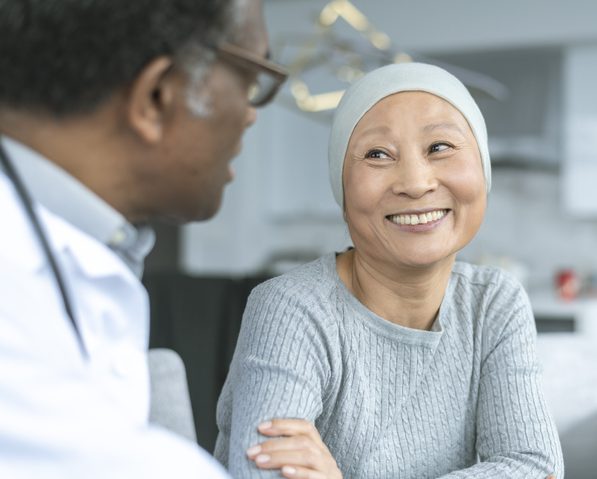 Sutter Health is a leader in Northern California cancer care, offering sophisticated treatment plans and a multidisciplinary approach to care.
"When it comes to treating cancer, it is an all-hands-on-deck operation," says Dr. Natalia Colocci, an oncologist and department chair of oncology and medical director of the cancer service line at Sutter's Palo Alto Medical Foundation. This is by design, she explains, as a person with cancer may be cared for by many healthcare professionals along their journey, including surgeons, medical and radiation oncologists, diagnostic radiologists, pathologists, nutritionists, social workers and other specialists.
Sutter patients may also benefit from the hands-on guidance provided by a cancer nurse navigator, whose mission is to help patients by acting as a personal guide through what can seem an overwhelming maze of information, appointments and emotions. Cancer nurse navigators provide one-on-one education and support while also serving as case manager, advocate and friend—all free of charge.
Read about one woman's experience with a breast cancer navigator at the Carol Ann Read Breast Health Center in the East Bay.
Cancer continues to be an extremely complex set of diseases. While many cancers are cured, others are still not deemed curable.
"We are witnessing increasing numbers of de facto cures that would never have been seen even just a few years ago," says Dr. Colocci. "This reflects the astonishing extent of progress in both cancer diagnosis and treatment that has been made over the past five years, let alone over the past few decades."