By Lara Azar, Ashley Boarman and Gary Zavoral, Vitals contributors
On the heels of a two-year pandemic and with an aging workforce heading into retirement, the American Medical Association reports that one in five doctors plans to leave the profession within the next two years. Especially needed are physicians who want to work in rural settings and community hospitals, as well as doctors who provide psychiatric care that has seen an increased need since COVID-19 began.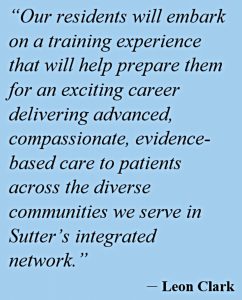 One Northern California healthcare network is easing those doctor shortages by being matched with 80 physician residents on March 18, known nationally as Match Day. Among the graduates to be matched with Sutter Health programs are:
A new teaching hospital in Roseville that will add 23 physician residents its first year;
Two more graduates entering the novel Rural Residency Program in Jackson;
14 new family medicine residents at community hospitals in Santa Rosa and Davis;
And four new psychiatric residents in San Francisco.
In addition, there will be 29 new internal medicine residents and three new residents in ophthalmology this year in San Francisco, and five additional family medicine physician residents in Sacramento.
Match Day is when the National Resident Matching Program releases results to applicants seeking residency and fellowship training positions in the United States to complete their graduate medical education. The organization uses a matching algorithm to place applicants into their most preferred program that also prefers them.
"Celebrating Match Day today, we are thrilled to welcome new residents and fellows to our graduate medical education programs at Sutter Health," said Leon Clark, Sutter's chief research and health equity officer and who oversees general medical education at Sutter. "Our residents will embark on a training experience that will help prepare them for an exciting career delivering advanced, compassionate, evidence-based care to patients across the diverse communities we serve in Sutter's integrated network."
Diverse Residency Programs for a Diverse Population
Sutter Health-affiliated hospitals offer seven residency programs and 17 fellowship programs at one of the largest and most diverse healthcare systems in the nation. Resident physicians learn and work in these hospitals—providing direct care under supervision, with increasing responsibility as they gain education and experience—to continue their training in a specialized field of medicine. At hospitals in Sutter's network, physicians can pursue their residencies in family medicine, internal medicine, ophthalmology, surgery or psychiatry.
Newest to the fold is Sutter Roseville Medical Center's general medical education program, which will welcome its first residents—in surgery and internal medicine—to campus this summer. These two tracks mark the first of at least five to come as Roseville's program continues to grow over the next five years. When completed, the teaching hospital plans to have about 150 physician residents.
Sutter Amador Hospital's rural training track is also relatively new, having just received its first residents last summer in a program designed to bring more primary-care physicians to rural regions, which have long faced a shortage of family doctors.
"I know I can speak for my colleagues when I say we have been looking forward to Match Day and the true launch of graduate medical education at Sutter Roseville for a long time," said Dr. Peter Hull, Sutter Roseville's chief medical executive. "It's exciting to welcome these physicians and learners—and the new evidence-based approaches to patient care they bring with them—and to know that many of them will likely stay and practice in the area. Expanding medical education at Sutter is a testimony to our dedication to our communities and an investment in patient access to excellent, compassionate care for many years to come."
SF Physician Residents Receive Wide-Ranging Experience
California Pacific Medical Center is home to Sutter's largest residency program; it is also affiliated with Dartmouth Medical School and the University of California, San Francisco. According to program's website, CPMC serves as one of region's quaternary referral centers. Because of this, explains Dr. Maggie So, CPMC's internal medicine residency program director, residents are able to care for a wide mix of patients with both common and uncommon illnesses.
"This type of wide-ranging experience makes our program especially attractive and helps prepare our residents for life-long careers in medicine," she says. "As an academic community hospital, we take pride in ensuring a robust clinical foundation for our preliminary and categorical residents. Being based in San Francisco, CPMC sees a diverse, multicultural population that includes patients of all socioeconomic levels. We're really immersing our residents in the medicine and also the fabric of this dynamic community."
Over the coming weeks, these 80 new residents will be busy. They'll look forward to graduating medical school and then quickly relocating to these distinct Northern California cities and communities where Sutter's residency programs reside. The programs all have slightly different start dates, but most will begin in late June or early July.