Healthcare quality was once thought to be too complex and multifaceted to measure. Now healthcare organizations can objectively show how well they follow guidelines, meet targets and satisfy patients. What's more, organizations like Sutter Health can demonstrate how its focus on quality helps patients get healthier faster and lowers the total cost of care.
In a recent example Sutter-affiliated hospitals were able to cut the average time COVID patients were hospitalized from 20 days to just eight days by working together to learn which treatments helped people recover sooner.
"This kind of rapid discovery and uptake of best practices, across all of our hospitals, and to the benefit of patients, is the epitome of quality improvement" said William Isenberg, M.D., Ph.D., Sutter Health's chief quality and safety officer.
Sutter recently released an infographic that shows how the health system stacks up on quality measures and offers more examples of how its investments in quality make a difference for patients and society. Click these links (page one) (page two) (page three) to view each page in full screen.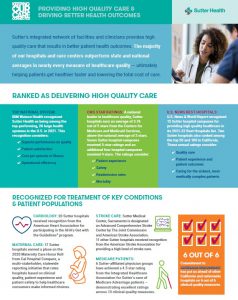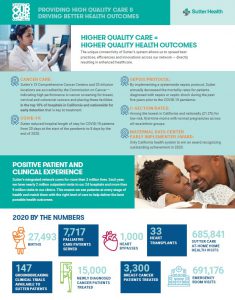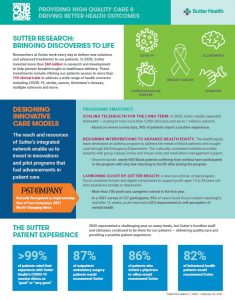 Prevention is Paramount
Many healthcare quality measures focus on prevention, from avoiding illness to the early detection and treatment of disease. Prevention is the cornerstone of how many people define quality healthcare. It's also important because when people avoid an illness or complication they are healthier and the total cost of their care is lower.
Take diabetes for example. "Uncontrolled or poorly controlled diabetes will show up 30, 40 years after the onset of diabetes with lots of chronic disease, heart failure, kidney failure, blindness, stroke, peripheral vascular disease," says Larry deGhetaldi, M.D., president of the Santa Cruz division of the Sutter Health Palo Alto Medical Foundation. "That's not only personal waste and loss of all the things that the individual holds dear, but it adds expense to society. If we don't prevent or treat diabetes, we will pay for it 20, 30, 40 years later."
Illnesses like diabetes, high blood pressure, arthritis, asthma, cancer and heart disease are among the most prevalent and costly in the U.S. For this reason, the California Office of Patient Advocate measures how well medical groups follow screening and treatment guidelines for them in their annual Health Care Quality Report Cards.
In the 2020-2021 OPA report cards, Sutter-affiliated physician groups each earned four stars or greater, which translates to "very good" clinical quality. The Commission on Cancer also recognized Sutter's focus on cancer screening, placing Sutter among the top 10% of healthcare organizations in California and Nationwide for practices that lead to early cancer detection. Moreover doctors, nurses and others in Sutter's not-for-profit integrated healthcare network are making care better by adapting how it is delivered. Improving diabetes management though video visits and expanding cancer screenings through mobile mammography are two examples of investments that make it easier for patients to access high-quality care.
Future Focus
The next generation of quality measures are expected to focus on the efficient and equitable delivery of care. In anticipation, Sutter Health is piloting new ways to deliver high-quality care at scale.
For example, Fast Company recently included Scout by Sutter Health™ among its 2021 World-Changing Ideas because of its potential to efficiently complement mental health treatment by bridging the gap between care visits and everyday life. By combining human and digital components the Scout virtual tool can support youth who are experiencing anxiety and/or depression, a need that has only grown in recent years.
Sutter also launched its Institute for Advancing Health Equity to develop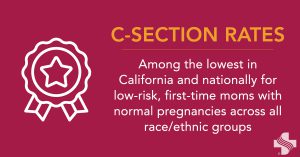 solutions aimed at eliminating health disparities. An example of Sutter's commitment to quality and equity can be found in its rate of births by cesarean (C-section) among low-risk, first-time moms with normal pregnancies. C-sections can come with a higher risk of complications, a longer recovery period, and a higher cost than vaginal birth, so they should only be done when necessary. Hospitals in the Sutter network have among the lowest rates of C-section in the state and nationally and this is true across all race and ethnic groups – meaning there is no disparity in this measure.
Finally, Sutter Health is working to expand treatment options for cancer, heart disease, stroke, Alzheimer's, multiple sclerosis and other illnesses by offering patients access to more than 150 clinical trials. Importantly, clinical trials rely on and reinforce information sharing and uniform practices that have also been shown to improve overall quality. Improvements that result from coordinated care and standard protocols include lower hospital readmission rates and reduced risk of complications—resulting in better health outcomes for all patients.